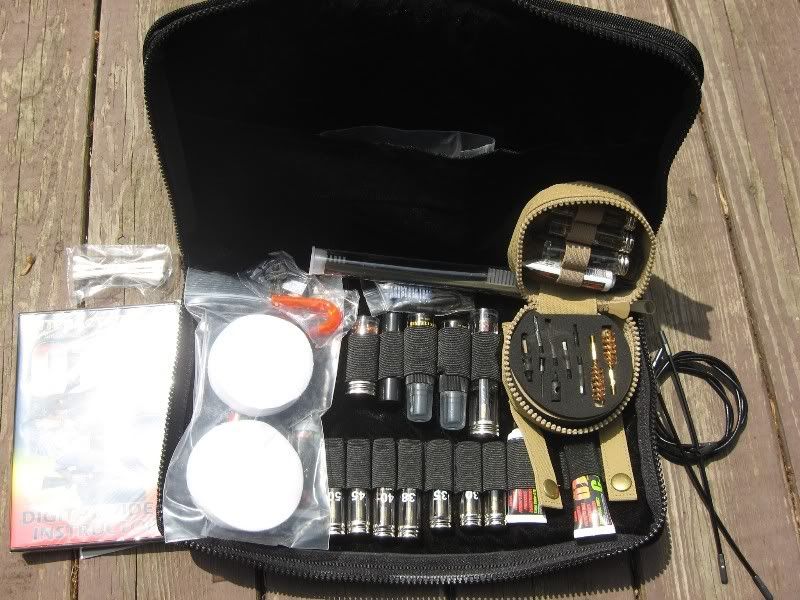 Wow....that's what I thought when I received the Deluxe Military Elite cleaning kit from Otis. I had to sit back and just look through the kit before even beginning to clean anything. This kit is absolutely awesome. Great for the armorer or the regular civilian who has multiple firearms.

Everything you need to clean a gun is included in this kit. The Otis breach-to-muzzle system ensures that any fouling is pulled out the muzzle instead of deposited in the chamber. The Otis systems use a "flexible rod", which is a aircraft grade cable covered with a plastic or nylon coating. The attachment points at the end can take a half ton of pull...so these aren't coming apart.

One unique thing you'll find in the Otis system are the patches. In this system, which can clean 5.56MM, 7.62MM, 9MM, .45 Caliber, .50 Caliber & 12 Gauge weapons systems, only 2 patch sizes are needed and included in this kit. The patches are of excellent quality and do not leave behind any fibers. When it comes to this system the patch is attached to the flexible rod in such a manner that it comes in complete contact with the bore all the way around. With traditional cleaning rods & patches the patch tends to only come in contact with a portion of the bore and is off-center. This can also cause the rod to scratch the bore/barrel. They also thought of an attachment that aids clean the 12 gauge barrel more thoroughly as well.

All tips and tools are made of forged brass....which means no aluminum oxide build up on the parts.

One really cool thing that I really like about this deluxe system is that you can either take the whole thing with you or you can use the included ballistic nylon pouch that has belt and MOLLE attachments. This allows you to only take what you need with you. There is plenty of room in this pouch to carry patches, flexible rod, CLP, tools, and several different bore brushes, yet, it doesn't take up much room on a vest or pack.

There is also a DVD and instruction manual included with the system which explains the techniques to use. This gives you an idea of how this system differs from other ways of cleaning a firearm.

I figured that I would include a list of all the components of this system to really give an idea of how much you get...






Nylon Case




Compact AP brush (tubed)



Pipe Cleaners (4)




Chamber rod




Instructional DVD & Brochure




3" mini CD rom (was not included in the kit I received)




1/2 oz. CLP (3)




5.56 bore brush (tubed)




30 cal. bore brush (tubed)




35 cal. bore brush (tubed)




38 cal. bore brush (tubed)




41 cal. bore brush (tubed)



45 cal. bore brush (tubed)




50 cal. bore brush (tubed)




Locks w/keys




Bore reflector




Scraper set




Lens cloths



Lens cleaning solution (2)




12 gauge bore brush (tubed)




cotton swabs (6)




Lens cleaning brush




5.56 chamber brush



8" memory flex cable (2)




20" memory flex cable



8" memory flex cable w/30 cal. tip (2)




30" memory flex cable(2)




3" patches (100)




2" patches (50)




Panoply 3" patches (50)




Soft pack case




nylon brush end



compact A/P brush




22 cal. tip




22 cal. obstruction remover




30 cal. tip




Shotgun cleaning tip




NATO adaptor




Large Obstruction remover




T-handle base




Scraper




Pick




Pin punch




Female rod handle




3/4" Large patch saver




Bore reflector




3" patches (10)
I have cleaned my AR15 and Glock 19 with this system and it really works great. You definitely have enough tools here to get your firearm very clean. The system even comes with ends for the regular cleaning rod that are punches to take down your rifle if need be. And it's all covered by a lifetime warranty. I plan on taking this system to my fathers house and giving all of his guns a good cleaning and I will update this post when I get that done.
MSRP $410.50

Videos courtesy of US Cav on youtube:


Rifle cleaning
Shotgun cleaning
Pistol cleaning
Patch use
Update:

This weekend I used this kit to clean a bunch of my dad's firearms. Some of these have been in our family for decades and had rarely, if ever, seen any cleaning. Some showed surface rust and one 20 gauge that was my grandfathers had never been cleaned. This kit along with
KG coatings
solutions got these firearms extremely clean and with very little effort once I got a technique down. I was very impressed with the quality of these products, yet again!