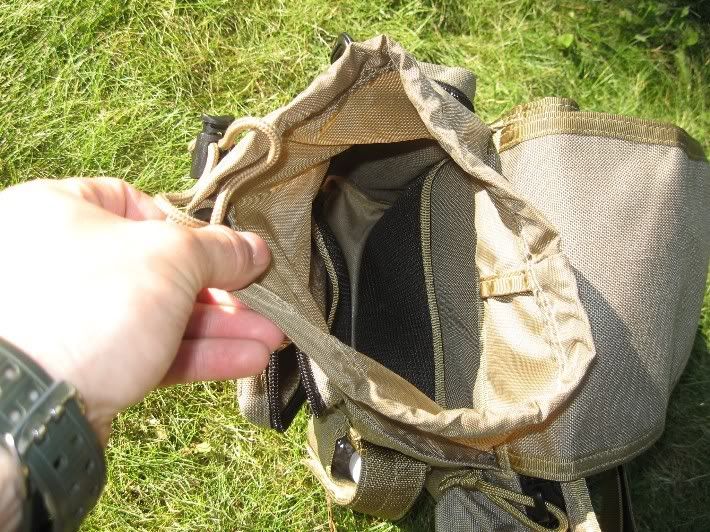 This Fatboy Versipack is another
fine product of Maxpediton Hard Use Gear. This bag is one of the smaller in
Maxpedition's
Versipack line of bags. For being the smaller in this lineup it's definitely not lacking in features or packing space. I hear it all the time from my wife, calling it my man-purse...but that's fine, because it's one hell of a man-purse. But in fact, it looks like just another shoulder bag and nothing like a purse (I hope).

This pack/bag is designed to be slung diagonally over the shoulder on the right side of the body for those that are right handed. It can be used on the left side of the body just as easily and I believe it's just the placement of the pouches that makes it better for use on the right side. For example...the pistol magazine pouch is toward the front of the pack when it's worn on the right side for easy access when reloading. Speaking of reloading, this pack can be used as an everyday pack to carry smaller and medium sized items for a few hours out away from the house or camp, it can be used as a survival kit or bug-out type bag, or it can be used as a concealed carry bag to hold your pistol, mags, knife or other gear.


I'll start off with the materials. This bag is made of 1000 denier abrasion resistant ballistic nylon which is coated with a Teflon fabric protection to help with stain resistance and clean-up. The material is triple polyurethane coated on the inside for even more water resistance. The webbing is extremely durable nylon webbing and the nylon thread is stronger and thicker than your typical thread used for a bag. You can tell this just by looking at the stitching. There are no loose threads either, which shows better quality and tends to prevent the stitching from coming loose. The zippers are YKK and the buckles are UTX-Duraflex nylon buckles which are supposed to be quieter than normal buckles. They do seem quieter to me, however, they aren't completely silent.


I'll get to the features along with my take on them starting with the shoulder strap. The shoulder strap can be adjusted from 40" to 60" and is 2 inches wide. It is very comfortable alone, however, the added shoulder pad helps to increase the comfort of the strap. The shoulder pad has vented padding on the underside and also has 2 rubber-like grip surfaces on the underside as well to help keep it in place on your shoulder and can be removed and used on other bags. The shoulder strap has a large side release buckle which makes dropping the bag in an emergency easy. It also allows you to strap more gear to the shoulder strap by un-snapping it and putting the strap through a loop on another piece of gear and re-snapping it. I often hang my hat from the shoulder strap this way.


At the base of the shoulder strap on the rear side (when wearing on the right side of the body) is a HK snap hook to attach your key ring to. Below that is one row of MOLLE/PALS webbing to attach more of Maxpedition's pouches. It will also accommodate ALICE clips. I've found this webbing useful to tuck my keys behind as they hang from the HK hook to prevent them from flopping around. As the base of the strap on the front is a cell phone pouch which will accommodate small to medium sized cell phones. Of course, other items can go here as well. The pocket flap is held down by a SRB and can be cinched down with the attached webbing. There is a pen holder on each side of the cell phone pocket.


Now for the main pack area. The back of the pack has closed-cell foam padding covered by a couple layers of mesh material for breathability. There is a belt loop also attached to the back of the main pack area. This is very useful when you'll be moving around a lot in order to keep the pack in a certain area. If you want it to stay toward the rear or side you simply attach the belt loop to your belt in that area. I've found this useful but haven't had to use this feature too much as the pack is designed to "hug" the body and pretty much stays in one place for normal daily activities as is.


Behind the main pocket, just on the front side of the foam padded area is a zip closed pocket. that has a 550 cord zipper pull. This area is best used for concealed carry of a pistol or spare magazines by using Maxpedition's
inserts
that are designed for carrying mags and pistols. The insert pouches attach using velcro to the inside of this area. I haven't had the opportunity to use one of these inserts, but I do carry my pistol in this area and even without the inserts, my pistol will normally stay in place so that it's easily drawn. I do, however, suggest the inserts. Other flat items such as maps, etc, can be put in this pocket as well.


The main pouch of the pack is 8" x 6.5" x 3" and is 156 cubic inches. This doesn't seem real big, but you can put a decent amount in this area for a day hike or short trip away from camp or the house. This area has a mesh pocket on each side of the interior of the main pocket to store small items. There is a drawstring water-resistant storm collar at the top of the main pocket that closes via a cord-lock. I will normally carry a couple bottles of water, some sun screen, bug spray, other assorted smaller items in this pouch when heading out. You can easily fit 3 - 20 oz. water bottles in this main pocket area standing up, plus another laying down on top of the other 3...just to give you an idea on size.


On the front of the main pocket is a smaller pocket (7" x 5" x 1.5") that zips closed. This is good for carrying small and medium sized items. This pocket has a sleeve in it to help organize gear. On the front of this pocket is a small sleeve style pocket that is good for mapping tools, wallet, and other small, flat items.


The main compartment and these two frontal pockets are covered by a flap that can be cinched down using the strap on the front. The strap has a "D" ring on the end to make easy adjustments to the length of the strap. One thing I've found is that you can store extra gear on top of the main pocket by covering it with this flap and then cinching it down to hold it in place, much like you would on the flap cover of some backpacks. I do this when I want to carry an extra layer, say a fleece or sweatshirt. I just put it under this flap. The flap itself is a pocket as well. Smaller and flat items fit well here. The entire flap is a pocket, not just part of it, which is accessible from the zipper on the outside of the flap. There is also a strip of velcro loop material on the front of the flap to add patches to. One thing I found is that if you want the flap out of the way of the main compartment for some reason, you can fold it back into the zippered concealed carry pocket to get it out of the way.


On the right side of the main pocket is what can be best described as a pistol magazine pouch. This pouch can be used for multi-tools, knives, or anything else that'll fit, but it is designed for a magazine. There is plenty of velcro to fit any magazine type and easily fits double stack mags. The flap for the mag pouch is adjustable via velcro, or can be completely removed if wanted.


To the left of the main pocket is another zip closed pocket that is perfect for a digital camera. That is what I put here most times. On the outside of that pocket are yet more MOLLE/PALS/ALICE attachment points where I keep a
grimloc
carabiner.


This pack has so many uses, it's almost unlimited. I use it when I'm going out from camp for a while or on a hike to carry bug repellent, bottled water, digital camera, pistol, cell phone, etc, etc. This has tactical and recreational purposes. Instead of carrying tons of extras in my cargo pockets I now carry it all in the fatboy. I have found that this pack is extremely durable and will take whatever you can dish out to it. Maxpedition gear really is for hard use.


Colors: Tan, OD, Black, Foliage, ACU digital camo


MSRP: $69.99