I bought this watch when I returned home from Iraq after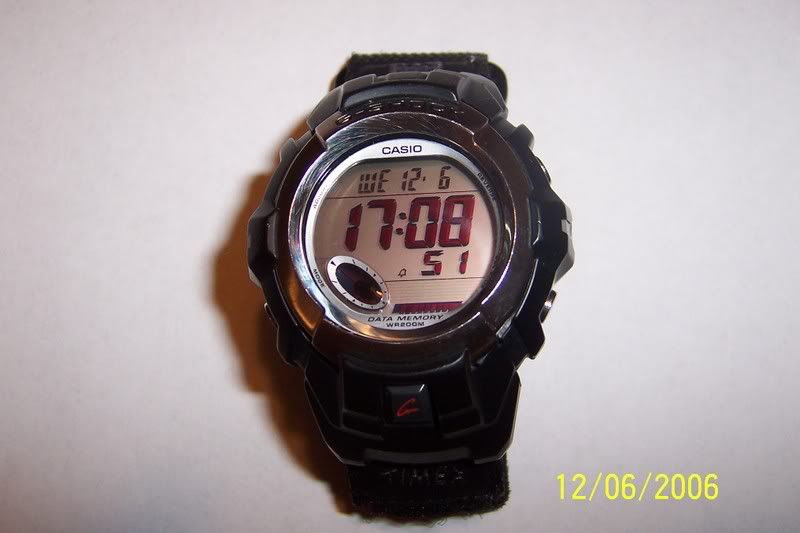 another brand took a licking, and kinda kept on ticking...but two of the buttons of the other brand fell off and was stuck in the stopwatch mode. It was my first G-shock and I loved it right off the bet. This watch is a thicker watch, but it feels good on the wrist. It has a lot of features that are useful. All the normal features, plus several alarms ( one is a snooze alarm), and a database to hold phone numbers. This watch was used by me in the Marines and as with my other watches, took a beating from the tanks and all the other abuse it went through, and to this day you can't see a mark on it. The only thing I replaced was the band, which hadn't completely given out, but i wanted to replace it before it did. The band isn't a conventional band, it uses velcro to connect and is 2 pieces of plastic like material fused together, not bad, but does wear after time. Possibly why you don't see this model much any more. Now they have a regular resin band.

Here are it's features:
1- Time (12/24), date, day
2- 1/100 sec Stopwatch
3- Accuracy +/- 15 seconds/month
4- 2 yr battery life
5- EL back light with afterglow
6- calender to 2039
7- Countdown timer
8- 2nd time zone
9- Hourly chime option
10- Water resistant
11- Shock resistant
12- Database to store phone #s (up to 30)
13- Duplex LCD screen (can change the color of the letters from black to red, and make them appear to float above the screen)
14- 5 daily alarms (one is a snooze alarm that will go off every 5 minutes until turned off)

All in all this is a very sturdy watch that I highly recommend. If you live in colder climates though, it is kind of big under winter clothes, but I've lived with it so...