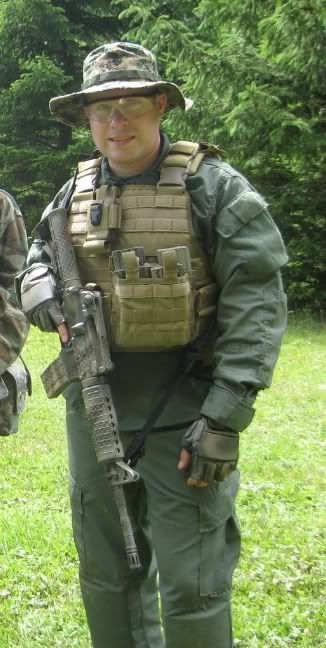 This is an improved version of the ACU design made by Tru-Spec (Atlanco). It is a great improvement over the original BDU in design and durability. This uniform is based off the army combat uniform with some small improvements made by Tru Spec.

One thing that I find could be a problem with this uniform in a combat environment is all the velcro on the uniform. Velcro (especially the extremely strong kind like the powerhook velcro used on this uniform) makes noise when you pull it apart. In an environment where stealth is needed this is not going to help you with noise discipline. Whether you need to get into a pocket or the pocket is pulled open on accident...it's going to make noise. It is however more convenient than the buttons if noise discipline is not necessary.

At first the uniform seems stiff also, but after washing this is not a problem...plus, for me, it just feels more durable. I have used this uniform for training, but have put it through it's paces. I have also used this uniform while playing airsoft with my younger brother and beat it up pretty good doing that too, but it's holding up great.

Let me start out with the features of the top:

1- 2 horizontal chest pockets with velcro closures. These are much easier to get to while wearing a vest than the original BDU pockets.

2- 2 slanted shoulder pockets with velcro openings. These pockets also have velcro on the outside for attachment of unit patches. There is also a tab to cover up an IFF glint tab.

3- Zipper & velcro front opening.

4- Mandarin collar can be worn down or up to protect the neck, which is nice when wearing a vest that may rub on the neck.

5- Reinforced elbows with pockets for elbow pads. The pocket openings are external which makes things more convenient.

6- Velcro adjustable cuffs.

7- Bellowed (bi-swing) back for more range of movement.

8- Pen pencil pocket on left forearm.

9- 3 pieces of velcro included that can be sewn on for addition of rank and name tapes.

Features of the pant:

1- 2 calf pockets with velcro closure. I don't normally use these pockets because anything that has significant weight to it causes the pant leg to flop around when walking and running. I can see these being used inside a vehicle where they may be more accessible than other pockets.

2- 2 thigh cargo pockets with velcro closure. These pockets have a slanted opening to make it easier to get into. they also have an elastic drawstring to help keep items in the pocket and can be useful when tucking the pocket flap inside the pocket and just using the drawstring to keep items in. One thing about the flap on this pocket is that it isn't bar tacked down on the front like the original BDU...which makes it catch on bushes, etc when walking through the woods. Then the pocket flap can open causing noise due to the velcro. I have bar tacked that front side down myself. The pockets have drain holes as well.

3- 2 hip pockets with reinforced openings.

4- 2 rear pockets with velcro opening.

5- 1inch wide belt loops will fit up to a 2 1/4 inch belt.

6- Reinforced seat.

7- Reinforced knees with pockets for knee pads. One thing I don't like about these openings (which are external) is that the opening is at the bottom of the pocket. I would think the opening at the top would make it easier to put the pad's in and remove.

8- Drawstring at cuff.

9- Drawstring in waist helps if you don't have a belt.

10- Button fly.

I really like this uniforms improvements over the original BDU. If, however, I needed stealth, I would have the velcro removed and have buttons put in it's place.

This is a very durable and useful uniform.

Colors available: Black, Navy, Khaki, Olive Drab, Coyote, Woodland, Desert (3-color), Digital Woodland, Digital Desert, Digital Urban, Multicam.

Sizes available: Xsmall - 3XLarge regular Small - 3XLarge long Small - Xlarge short

Update: July 2008 - I have had the chance to wear these with the Skydex kneepad inserts. The kneepads themselves are pretty good. Work wonderful, the only problem is that you need to be sure you have a T.R.U. that fits the kneepad pockets over your knees. Being shorter they tend to be a little low. For low crawling they work fine, but for kneeling I just pulled up real quick on the pant leg if I was going to be kneeling for a while to bring the pad up to the knee. These are great as they're convenient and don't bind like normal knee pads.