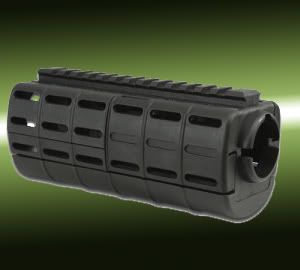 I recently purchased a
Intrafuse hand guard
for my AR15 made by
Tapco
. When I ordered it I wasn't aware of how large this hand guard is. That's the main reason I wanted to do a review on this item. I don't have any pictures of it on a rifle or in use because I installed it and then took it back off and got rid of it because I didn't like how big around it is. I don't have large hands by any means, so maybe for someone with larger hands this hand guard will work out better.
Installing it wasn't hard... the best way to install it is to take off the side rail guards first.
The hand guard features rails on the bottom, top, and the forward half of the sides. Included are rail guards for the sides and bottom, with the top left uncovered. I would suggest some ladder style rail guards for the top.
Quality seemed good, but I can't speak to it because I never actually used the hand guard.
This hand guard is something you'll definitely want to think about before buying. If there's somewhere you can go to see it in person first I'd suggest that. It's large on the rifle and in the hand and looks like something that would be a better fit on a larger rifle or machinegun.
Colors: Black, Dark Earth