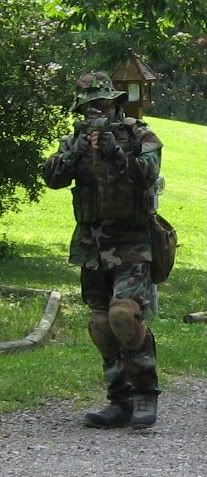 The company that has created these boots was originally contacted by the US Navy SEALS to create a boot for use in and around water. There really hasn't ever been a boot designed specifically for military use in a maritime environment that can transition to a ground environment. The traditional jungle boot and modernized jungle boot are OK for use in a wet environment, but the SEALS and others wanted something better. OTB was born, OTB standing for Over The Beach.


The Odhin boot was designed to be worn not only in the water but in rocky and muddy conditions and also to be used in dry situations. Now, this boot isn't meant for humping your 100 lb pack 50 miles. Although I have confidence these boots would hold up, they weren't designed for this and doesn't have the insole or out sole for continued operations of that sort. I have, however, used them for force-on-force training on dry land and they're just as good as any other tactical boot for occasional use in these conditions.


I'd like to cover the features of this boot before getting into my experiences with them.
Tactical rubber lug out sole has superior silent traction on wet and dry surfaces.



Siping on the out sole helps disperse water. This is technology that is used on tires. These razor cuts which can be seem when flexing the sole disperse water out and away from the sole and also increase surface area on the flexed out sole.



Perforated lug sole helps in water drainage. These holes in the sole have a sturdy ballistic mesh material which prevents stones, pebbles, and most sand from getting into the boots.




Recessed arch on the out sole helps to identify center of gravity and gives better footing when climbing ladders. This is also useful when fast roping.




Rubber reinforced toe and heel help in climbing and also help to prolong the life of the boot from wear.




High abrasion upper material resists wear and is treated with a durable water repellent. The uppers won't absorb water and become water logged. Other boots will absorb water and weigh you down, these boots do not.




All around the boot these are mesh areas for drainage. This greatly decreased dry time and promotes better foot health.




All foam padding used in this boot is reticulated foam which will not absorb water.




Mesh pocket at the top of the tongue for holding the laces in place. I used this on occasion, but most times just tucked the laces into the top of the boot like I have for years.




Adjustable insole with removable shank. There are 2 insoles with this boot along with a removable shank. These boots only come in whole sizes and the insoles help to create half sizes. The reason for this is that at one point you may be wearing these boots with a wet suit and need to remove the insoles and the shank for more room, on other occasions you may be wearing a sock and only need the shank and one insole, where on yet another occasion you may be going bear footed in the boot and require a tighter fit that all insoles in place can provide. Each of these insoles and the shank have holes in them to drain water.




8" height for ankle support.
When I first got these boots I thought I was going to have to send them back and get a smaller size. Even with the insoles and shank in place the boots seemed kind of large. I also was having a little trouble tightening down the laces with the style of eyelet these boots use. I came up with a way of tightening the laces that worked out pretty well and gave the boots a better fit. I took off the boots and tightened the laces down working from the bottom up. Then I placed my foot in the boot and gave a final tightening. The boots were still a little loose, but not too bad.

Initial impression walking around was that they were comfortable, but I can see how humping a heavy pack might not be suggested with these boots. The sole is thin and the insoles are somewhat thin. That is not a negative to these boots though, as they are not designed for such operations.

After getting these boots wet, lacing was made easier. When wet the laces are easy to cinch down, and after having worn them in the water, on a hike through a local gully running with water, the boots started to form to my foot and were really quite comfortable. During several trips to this gully for hiking the boots got very wet and on a couple occasions the water was so high we were pretty much swimming through it. The boots performed flawlessly as the water flowed right out of them when exiting the water. No debris got into the boot ad no water was absorbed by the boot material. During these hikes we also did some climbing up some rocky areas. This is where the durability of the boot material really showed. The upper material showed no signs of wear and neither did the toe rubber, which took some beating. In fact, the pictures taken were after several hard uses, so you can be the judge on initial durability.
I've also had the opportunity to use these boots during some force-on-force military style training. And on one occasion it was right after the boots were used in the water. The boots dried very fast. I'd say it took only a couple hours for them to dry, while being used with the wet socks I had been wearing when the boots got wet. The traction on dry ground was absolutely excellent and comfort was the same if not better than some of my tactical boots that are meant for ground work.
After only a couple uses these boots started to conform to my feet and were extremely comfortable...like slippers if you will. They worked out awesome in the water and just as good an dry land. I will continue to use them and update this post when necessary. I can see why the SEALS went to this company for their needs. They provide an excellent product!!
Colors: Green, Black
Sizes: 6-14 (whole sizes only)
MSRP: $119.95