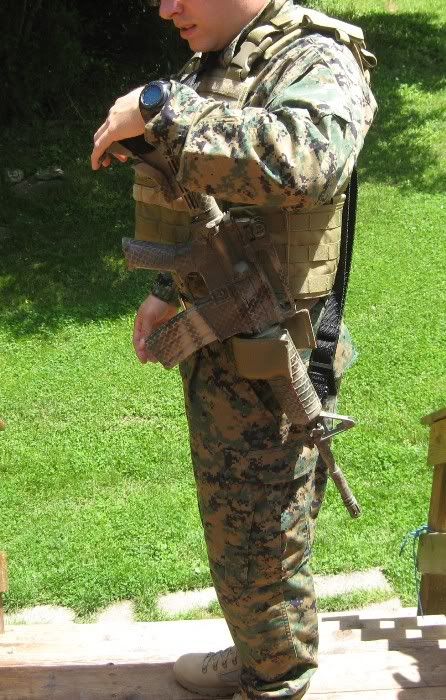 HSS Gear sent me a weapons catch among their other gear to try out. This item seems to be of very good quality. The catch is nice and stiff and it attaches to the belt via loops on the back. It has a good metal inner that flexes to hold your rifle in place when not in use. I may have some trouble commenting on it's long term durability as I don't really get a chance to use it too much. See a weapons catch is there to keep the rifle out of the way when need be, however, I use a two point sling and with this setup the sling keeps the rifle off to the side pretty well The weapons catch is more suited for use with a single point sling. I will see what I can do about getting a single point sling to try this on or get the weapons catch to someone that uses a single point sling.

One thing to note though that I was able to determine is that the catch doesn't work well with a quad rail hand guard. The hand guard is just too big around to fit in the catch without forcing it in there. Again, this seems like a quality piece like the other HSS gear I've tried, but I will have to find the right opportunity to get some further testing on this item done.

As far as I know it's only available in Coyote at the time of this posting.

Price: $16

Buy Here.