Review by Jessi
I have been using the Go Gaga Slide Tote bag for a few months now as a everything bag. I take it everywhere my little guy goes with me. The company refers to the bag as a slide with the idea that slides, be it water slides, kids slides, a slide into home base are all slides that get you places. this "slide" can carry everything we need when we go out and I don't have to worry about carrying my purse with me because there is plenty of room for my wallet and for my other personal items along with anything I need for my 3 year old.

There are features of the bag that many moms will enjoy. For starters, inside the main compartment there is a Velcro divider that can be used to separate diapers from clothes or other items. This divider can be undone and moved off to the side out of the way to open up the compartment to it's full capacity. One thing I would do is add Velcro off to the side to attach the divider to when not in use. It can get in the way when packing the bag because it doesn't stay off to the side sometimes. Not a big issue, but something that the addition of a small piece of veclro can help to resolve. Also, there is a cushioned changing pad that comes with the bag. A baby wipe container is now included, but wasn't when I got the test bag.

On each end of the bag are two large fully lined bottle pockets. You want to be careful that your drinks don't sweat in these pockets though because I did notice one day that our water soaked through and got some of our clothing a little damp. Not a huge deal but could become a issue for some people.

There are also several other smaller pockets to include 2 on the front made with a stretchy material, 2 sleeve pockets on the inside, a zippered change pocket on the inside and a sleeve on the entire length of the back.

Just above and behind the zippered main pocket are 2 adjustable straps with side release buckles that can be used for a yoga mat or rolled up blanket.

My favorite part of the bag is the adjustable strap. It is a "patented ergonomic strap" that can be worn different ways depending on how you feel comfortable wearing the bag. If the bag is heavy you can pull the shoulder pad (which also has a cell phone holder on it) to either end and fan out the strap to distribute the weight. The strap fans out over your shoulder comfortably and makes the bag feel a lot lighter.

Packing this bag is made easy by the fact that this bag stands upon it's own. This is just one more added detail in this bag.

This bag is a wonderful bag. It is expensive but you pay for a wonderful product.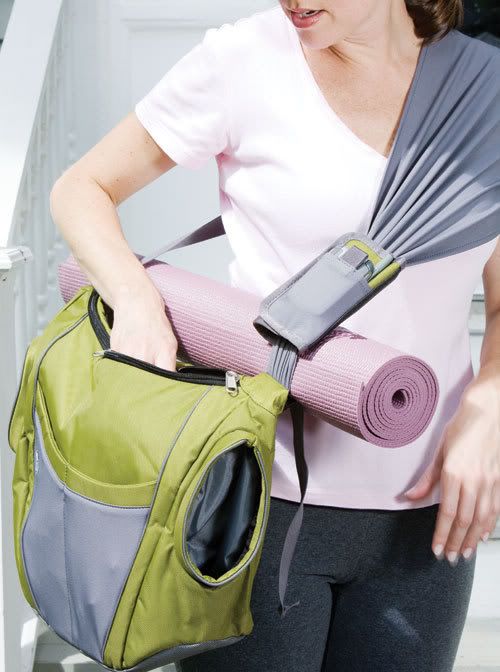 Colors: Copper, Olive, Black, Cayenne
Dimensions: 17.25" L x 14.5" H x 5" W

MSRP: $118.00