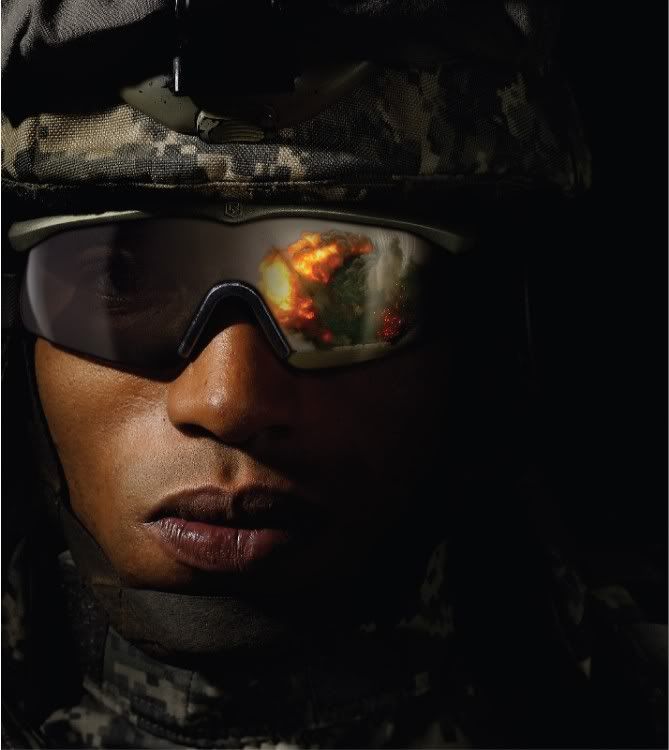 When you wear safety glasses on a daily basis do you really want to risk your eyesight on the quality of cheap glasses. I was recently wearing a pair of safety glasses which are a known brand in the industrial safety community. I went to take these glasses off as normal and they broke in two on the bridge area between the two lenses. Right then I knew I wanted to get something a little better to protect my eyes. If something were to hit those glasses at a high velocity would they protect my eyes? Maybe, maybe not...well...my vision is too valuable to me for those odds.

When I received a pair of
Revision Sawfly
glasses I knew I would be able to put these to daily use and after having read about the glasses and seen the shotgun video I immediately had confidence in their ability to protect my eyes. There are countless letters that have been sent to Revision from troops overseas who have been hit with IEDs and the Revision products have saved their vision. For that reason the Sawfly has become standard issue at Army basic training and is in use by military and law enforcement all over the world.

I got the Sawfly military kit which includes the glasses with clear and smoke lenses, a microfiber cleaning pouch, a retention head strap, and a semi-rigid storage case (not a hard case). I will cover some of the features and give some comments on the features:
High impact protection which exceedes ANSI Z87.1 and military standards. Revision has tested these lenses with a shotgun test by shooting the lenses from 16 feet with #6 shot. (see video below) The lenses held up just fine with no penetration. Independent testing has proven this to be true, and when the same was done to other brands, the Revision glasses held up better than the competition. Other brands broke in two just like the glasses I was using. Not good!




Curved optically correct single lens shield provide protection through to the sides of the eyes. The lack of a frame design and the quality of the lenses provide an unobstructed field-of-view. The only issue I've had with the lenses, which isn't really a quality thing, just something I noted, was that I had trouble getting them to really come clean even with the provided cleaning bag. They seemed to have some hazing or streaking. I didn't notice it when wearing the glasses, so it didn't impair my vision. I ended up using a

Clear-shot

cleaner and this cleaned the lenses up well.




Interchangeable and replaceable lens system which protects you against UV-A, UV-B and UV-C rays. You can get lenses in clear, smoke, and high contrast yellow. Switching out the lenses is a breeze. You just pull down on the center of the lens and then pull the sides out. To place the new lens in you just have to put the sides in (at a slight angle) and then the center and make sure they're pushed up in place. That easy. I used the cleaning bag to hold the lenses while switching them to limit finger prints on the lenses.



The frames come in 2 sizes. Regular for most heads and large for hat sizes 7.5 plus. The frame temple arms adjust for length. I find this useful to not only get the right fit, but to get the arms out of the way when wearing head wear. The frames come in tan, black, or foliage green.


Prescription lens carrier available which can be switched out with the Desert Locust Goggle as well.




The case that comes with this kit holds your glasses and has soft sleeves inside it to hold additional lenses. These sleeves are attached so you don't lose them. It has belt loops on the back and a clip on the end to attach it to your gear. One change I would make to this case would be to make the straps on the back MOLLE compatible. This would allow for belt wear and attachment to a vest or pack. Also, additional case colors would be nice as well.




Comfortable nose piece and rubber on the ends of the temple arms helps to keep the glasses from slipping down.
I have been wearing these glasses on almost a daily basis during work and have found that they're very comfortable and light weight. At first they seemed a little loose on my head. But even so I had no problem with them slipping down. On one occasion while doing some training and sweating, they started to slip just a little, but adding the retention headband solved this problem. Being that they felt a little loose they weren't uncomfortable and tight on my head. Several times I've worn safety glasses that were uncomfortably tight on my head. Since they were uncomfortable I'd take them off, which meant they weren't providing me with the protection I needed. The Sawfly glasses are extremely comfortable to wear.

One thing that always happens with safety glasses is fogging when sweating. I have been in hot and humid environments the entire time I've work these and have yet to see them fog up. A big plus in my book because, again, if you take them off due to fogging, they can't protect your eyes.

Overall, I highly recommend these glasses from revision. If you care about your eyes, the MSRP of $89.99 for this kit isn't too much to save your vision. I will continue to use these glasses and report and update this post as necessary.