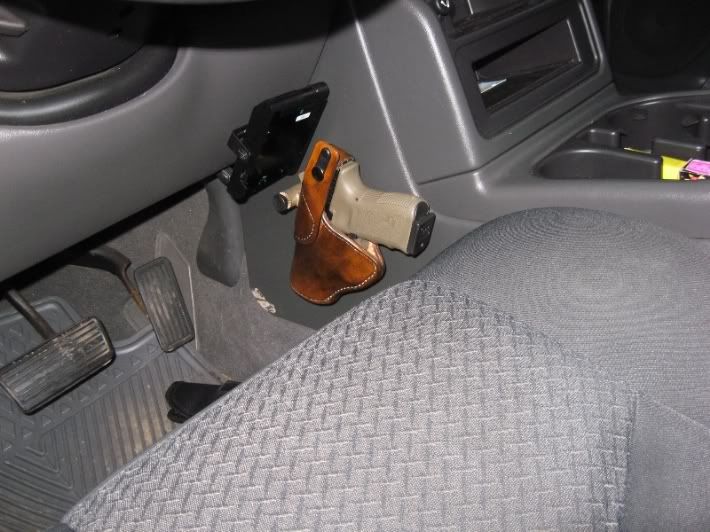 This review is a follow up to my review of Grassburr's Nylon mountable holster (C-Burr). This version is the leather more custom version. For a full review of the mounting options please see my previous review HERE. But to sum it up...Grassburr holsters can be mounted anywhere you can put a screw or bolt. They can be mounted from the side or the top of the holster. The mounting options are limitless.

The C-burr I reviewed previously was a model that was designed for those that didn't want to spend the extra money on leather. Some wanted a holster that wasn't quite as expensive since it would more than likely be hidden anyway and not worn on the body. The Nylon C-burr is designed as a universal holster which fit small, medium, or large frame autos and revolvers. The leather version is made for your specific make and model of pistol...it's molded for that gun. The leather is of great quality, and drawing the holster is a breeze. The thumbreak is smooth as well. My Glock fits and draws very well from this holster, however if you wish to stretch the holster a bit a good suggestion from the manufacturer is to place a sock over the unloaded pistol and put it in the holster for a while to stretch the leather to give the pistol a little more room. Good thinking.

Available in tan and black leather.

Overall this holster is a great addition to any pistol you may carry and want to have a unique way to mount it. Grassburr has impressed me with their innovative ideas and they're worth taking a look.

MSRP: $89.99

Update: One inprovement in this holster over the nylon is that you can get a good firing grip on the pistol while it's still in the holster. On the nylon version you can't get your hand down between the pistol and the mounting surface enough for a good grip...not so on this holster.