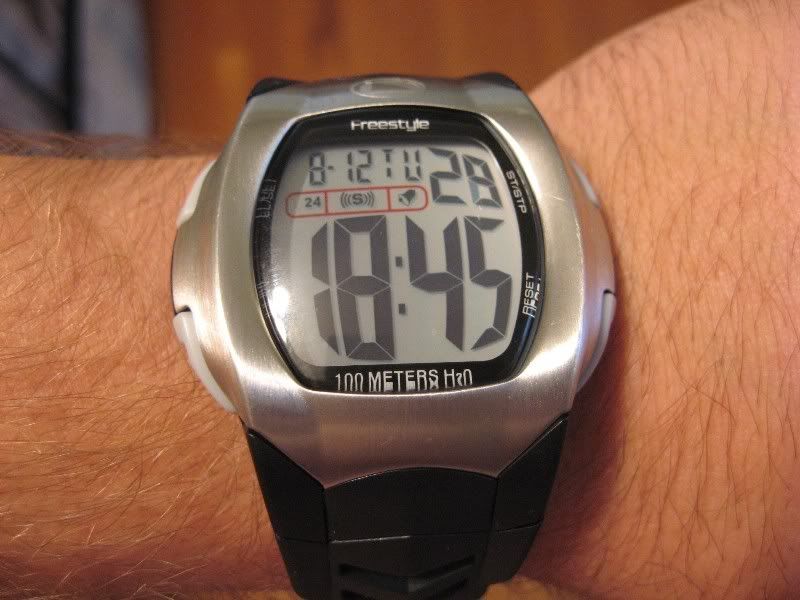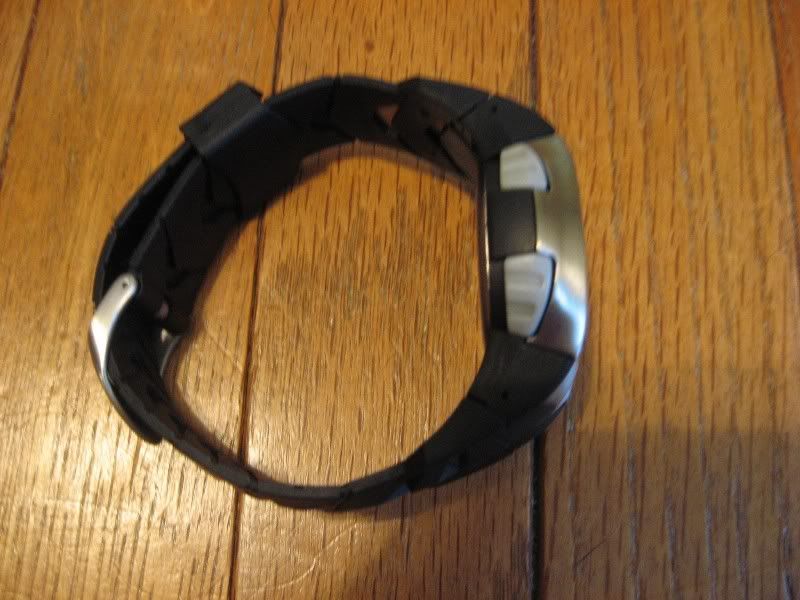 Freestyle USA is a company comprised of surfers, skateboarders, and other sportsmen who, in the 1980s, started creating watches that were durable enough to stand up to these sports. Their watches are made to stand the abuse and maintain their water resistance, hence the first name of this particular watch. The second part of the watches name comes from a unique feature...a vibrating alarm.

The shark buzz has a cool look to it as well...kind of a techno shark appearance. The band, which is pliable and extremely comfortable has a kind of shark fin pattern and the side buttons are a shark grey (on the particular style I have). One thing that I noticed right off the bat is the convex face of the watch. It seemed like this would find every sharp edge and scratch up easily. Well, I've been wearing this watch daily for a while and the face is pretty resistant to scratches. The resistance to scratches along with the raised bezel help to protect the face. The display itself is large blocked numbers which are easy to read in low light and with just a quick glance at the watch.

Here are the other features of the watch:

Time (12/24), Day and Date display.

Backlight - The backlight here is a blue reversed backlight, meaning that the numbers themselves light up and not the background.

Alarm - This alarm can be set to go off daily, or on a particular day.

Hourly chime.

Vibrate feature - this watch beeps and vibrates when any button is pushed, at the end of the countdown timer, or at the alarm time. This is enough to feel, but I haven't had it wake me from a sleep yet. Although I have been laying in bed, just about to fall asleep and the hourly chime goes off and the vibrating startles me....so it is noticeable.


Countdown timer - Timer counts down and once zero is reached it alarms and then starts to count up.

Stopwatch with split times.

100 meters water resistant.
The only thing I would do to improve this watch would be in the setting mode. When setting features such as the time or countdown timer you can only advance the numbers. It would be nice to have a button that can go backwards with the numbers as well. This is just a convenience feature that I have come to like in watches.
Overall I have enjoyed wearing this watch. It is very comfortable, durable and has the features that I like in a watch. Freestyle isn't a name you normally hear in the watch industry, but I feel it will become more popular as people start to hear the name and notice the quality of their products.

Colors available: Black, silver/black

MSRP: Black $75
Silver/Black $70