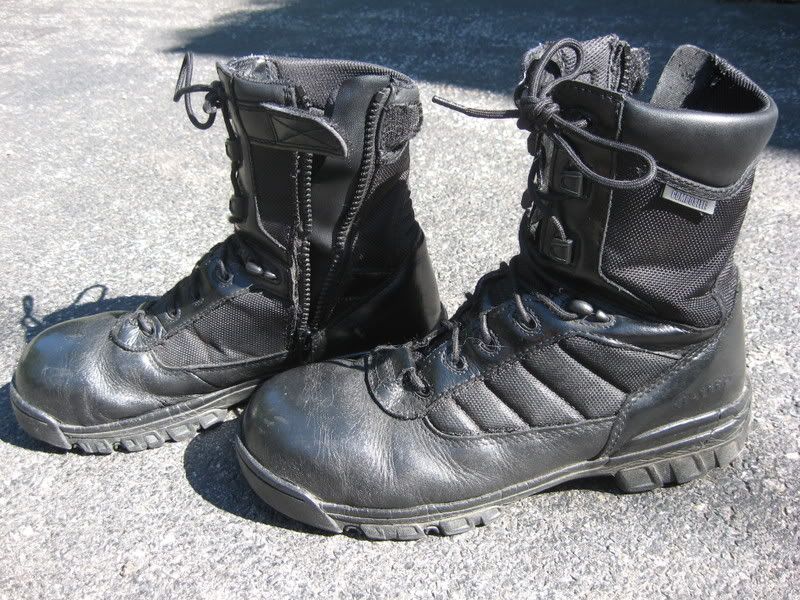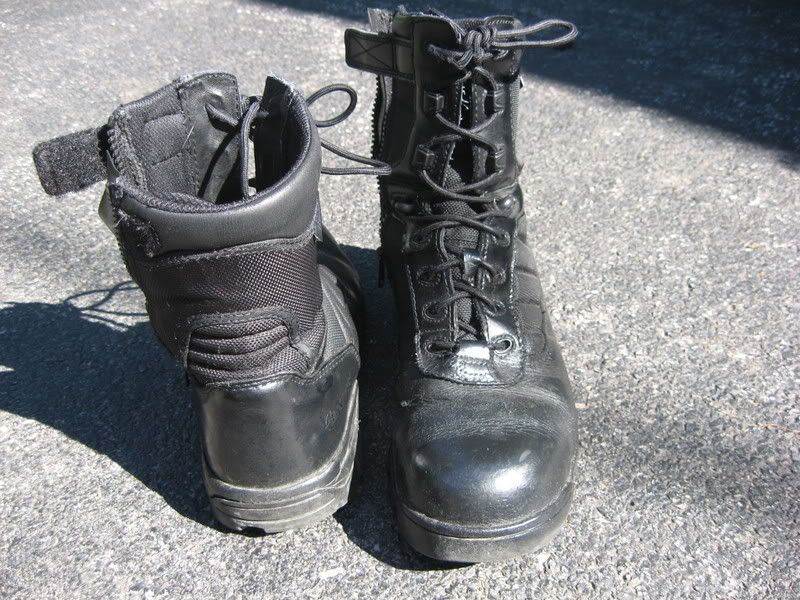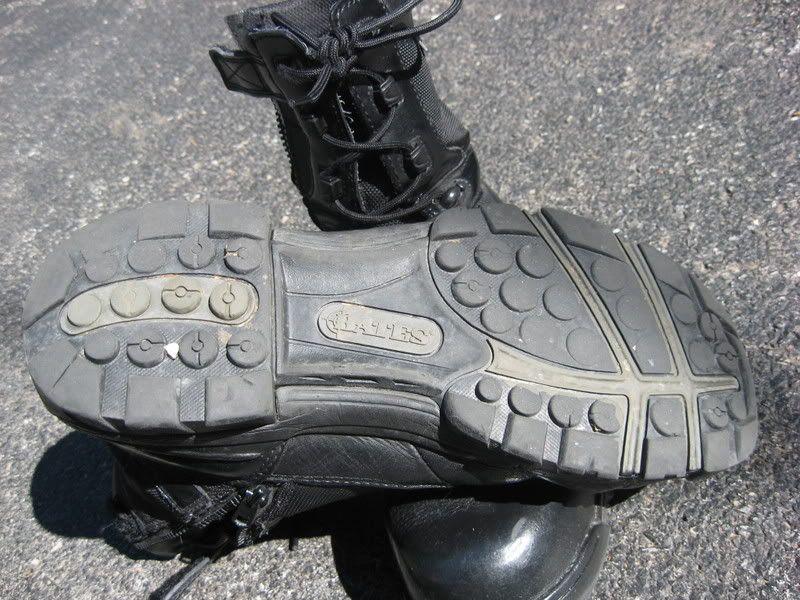 These Bates Enforcer boots have been my daily work boot for approximately 2 years now. For them to last 2 years with daily use (12 hour days) should say something right off the bat about the durability of these boots. They are still in decent shape and I have a co-worker who says he's had his for close to 3 years and only replaced the laces and insole. I was first introduced to Bates in the military with my first pair of Bates Navy Seal Jungle Boots. Since then I have always been impressed with Bates. So here are the features of the boots:

Composite safety toes. Composite toe is always better if you're required to wear safety toe boots. These don't get hot like a steel toe boot and don't set off metal detectors. Some composite toe boots I've worn have a tendency to dig into your upper toe/foot. These do not. You can't tell they have a safety toe at all.
Leather/Cordura uppers. I have found that these boots, although not designed this way, are pretty waterproof. If you keep the leather polished it'll repel water, and the cordura seems to be of higher quality then 1000D. It seems like a tighter weave and thicker. The only drawback to this is that they're a little less breathable. I don't find this to be too much of an issue though. The better Nylon means longer life, so I'm ok with it!!


All components are non-metallic.

Side zip for convenience. This is one area that has finally broken down (on one boot) after almost two years. But it's not the zipper itself, just the little tab of velcro that holds the zipper pull-tab (a good feature in itself as there isn't any jingling of the pull tab when walking). The stitching on the velcro part that's attached to the boot has come loose (see picture). This doesn't, however, affect the wear of the boot. It still holds the tab from jingling. I actually believe I know what caused this part to come loose...and it's not manufacturing fault really. I believe it's because we blouse our pants on top of the boot with metal boot blousers and I think that they just pull up onto this tab enough to eventually cause the stitching to come loose. This is to be expected really after 2 years.

Breathable mesh lining. This lining did tear appart in the heel area within about 6-8 months. This happens a lot with me though, due to having a narrow heel. My heel has a tendency to rub this area until it wears through. One thing though that impressed me is that I don't get any blisters in this area and the fact that the liner is worn is no issue.

Slip-resistant Ultra-lite outsole is very durable. You can see the wear from 2 years of daily work use and they've still got a lot of tread left. They don't tend to "squeek" on flooring so they're considered "stealth" soles.
These boots are absolutely a great value boot. I didn't require any break in time with these boots and went right on shift the day I bought them. They're very comfortable, and as long as they're taken care of they'll last a long time. The leather is just starting to crack in a couple spots and that's due to them being high wear areas and the fact that for the past six months I've gotten lazy and started using the liquid polish instead of real kiwi. I highly recommend any Bates boots and these are no exception. They're light and comfortable all day every day.