This watch was donated to the site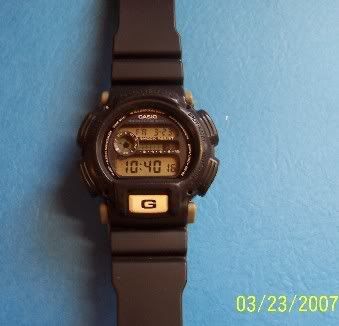 by Brian Daniels from Milwaukee, WI, and will be donated to a member of the armed forces when if survives the testing. This watch is a great basic watch, and after receiving it, I could tell it's taken a beating and hasn't missed a beat. The band that came with it is a little deteriorated, but an easy fix, with the help of Putten Lohmann from Nw Hampshire who donated a replacement band. Other than that...nothing's wrong with this watch. This is a basic model watch but all the toughness you need.
Here are some of the features of the DW-9000:
2- EL backlight with afterglow, and the light can be set to flash on the hourly chime, alarm, end of countdown alarm.
3- Time (12/24 hour format), day, date display
4- Alarm (can be set for daily, specified date, a specific day on every month, or every day on one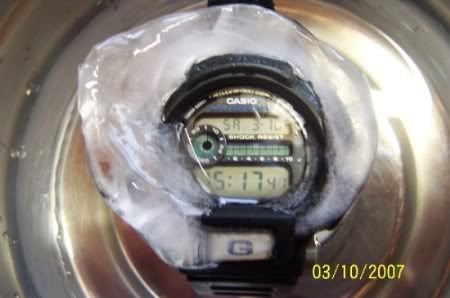 specific month)
5- Countdown timer from 1 second to 24 hours.
I recently started to conduct a torture test on this watch to see how much it could take before donating it to someone that needs a tough watch. Here are the tests and results.
1- set in water for over 16 hours, no water resistant issues.
2- Frozen Solid for over 12 hours, still working.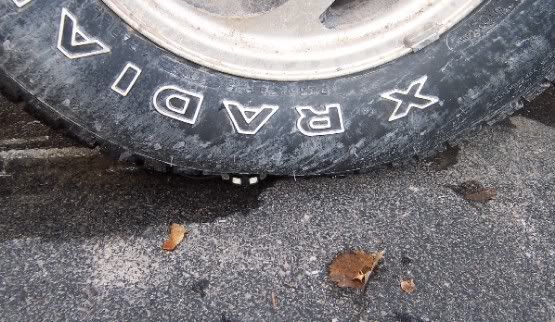 3- Boiled for a minute, still working.
4- Put in the dryer for 30 minutes, no issues.
5- Run over by a Chevy Blazer, no issues...still working.
The only test I had trouble with on this watch was when i pushed the buttons under water. I pushed all the buttons a couple times and after opening it up, I found a small amount of moisture around the light button and on other inner parts of the watch. I did this test before changing the battery so the watch was already dead. I don't know whether it would have been enough water to kill the watch or not. The DW-6600 leaked from a bad seal and died...but after drying out, worked just fine.
The last test was a drop of about 20 feet...which of course, the watch survived.
This watch was donated to LCpl Michael Martinez (USMC) who was recently deployed to Iraq
with HMM - 161 Air Frames. His grandfather informed me of his deployment and possible need for a watch. The picture is of him and his fellow Marines in Iraq wearing the watch. Before being shipped out the new watch band was attached and the watch was cleaned to include a cycle through the dishwasher on sanitize mode...of course, nothing happened to the watch.