This phone pouch is one made by Maxpedition, a leader in "hard-use gear". The one I got was the medium size in Khaki to fit my Casio G-Zone phone. The color on the site says khaki, but it matches exactly with coyote brown.
The medium size will fit phones with a minimum size of 3.5in x 1.5in x .75in and a maximum of 4in x 2.5in x 1.5in. I'm sure these pouches would be perfect for other items, like my magellin GPS unit I currently use in this pouch. The adjustments for size are made by adjusting Velcro both vertically and horizontally (diameter).

Maxpedition items are known for being extremely durable and this pouch definitely feels like it. If you're looking for a phone pouch to wear with business attire or one to fit under a suit coat, etc... this one is not for you. This pouch is heft and slightly bulky, but, it's meant to be used in a outdoor or otherwise harsh environment and meant to keep your phone safe and secure. Perfect for outdoor activities.
The pouch has several ways to attach it to a belt or gear. For belt wear you can slide the belt through a belt loop to wear vertically or put your belt through the vertical MOLLE/PALS straps. There are also MOLLE/PALS straps to allow it to be worn horizontally as well, which
is what I prefer due to the reduced size when worn horizontally. It never gets in the way when sitting or bending this way. The pouch can be attached to MOLLE points on any vest, pack, etc. The MOLLE/PALS straps use heavy duty Velcro to secure them. And the straps that run vertically are secured, not only with the velcro on the straps themselves, but also the lower horizontal
strap helps to secure the vertical ones. Very Secure!! The strap that holds the phone in is also adjustable.
One other small feature is a loop on the bottom of the pouch where a carabiner or anything else you can think of can be attached.
Color options: Black, Green, Khaki, Foliage Green, Army UCP digital pattern.
I love this pouch so far. It seems very secure and also seems to protect my phone from any bumps. It's versatility of being able to be attached multiple ways to multiple different items makes this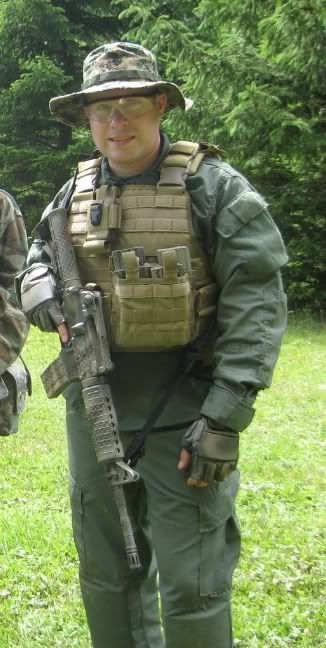 an awesome pouch. I'm also impressed with the khaki being more coyote in color as well.
For those that don't need the MOLLE/PALS capability there is also a clip on version.