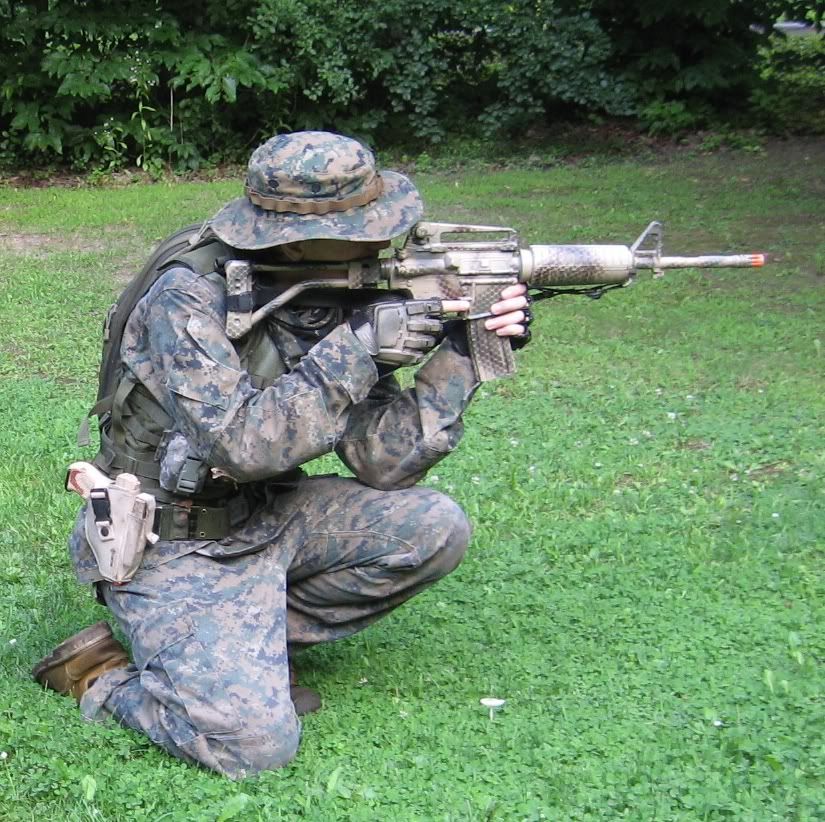 I got these
Tru-Spec
BDUs for my younger brother for his birthday for him to use for airsoft. I bought them from
US Cavalry
and when I got them I was very impressed by the fact that they were very close in features and design as the official MCCUU (Marine Corps Combat Utility Uniform).


Here are some of the features that I noticed that were similar to the official cut uniform:
Inverted buttons on sleeve cuff. This helps prevent snagging.

Rounded collar tips.

Slanted chest pockets with Velcro closure. This is good for use with tactical vests.

Sleeve pockets with button closure. Also designed with vest use in mind. With a vest you can't access the front pockets of traditional BDUs so the bottom pockets were removed and replaced with sleeve pockets.

Pockets in sleeves and pant legs for knee pads. Knee/elbow pads such as the Skydex knee pads (reviewed here) can be placed in these pockets.


No lower pockets on top.
Here are some things that it is lacking compared to the MCCUU:
Permanent creases.

Elastic in the waist.

Elastic top on leg pockets.
Here are all the rest of the features of the
top
:
Four-pocket design
Two slanted chest pockets with VELCRO® brand closures and pencil pocket openings
Bellowed sleeve pockets with snag proof button flaps
Fused flaps and collar
Inverted adjustable cuff to prevent snagging
Reinforced elbow patches
Concealed button front placket
Felled side seams and sleeves
Here are the rest of the features of the
pants
:
Six-pocket design
Two slash pockets and two rear inserted pockets with snag proof pocket flaps
Two pleated, bellowed cargo pockets with snag proof button flaps
Fused flaps
Two adjustable side tabs, secured with four bar-tacks
Reinforced seat and knees
Interior pockets for additional padding
Four-button fly closure
Belt loops with 2 1/4" wide opening, secured with two bar-tacks
Drawstring leg ties
Felled inseam, outseam and seat seam
Both of these items are made of
65% polyester/35% cotton twill using an extra fast dying process. They seem to fade after a few washes though. They get a worn look to them fairly quickly and compared to official Marine Corps utilities they fade extremely fast. You can see the differences of wear in the picture above showing Marine Corps Issue far right with Tru-Spec brand far left. In between is a version by Propper (which are brand new in the picture, not yet washed). The Tru-Spec are about a year old, the MCCUU is a few years old.
You can also tell that the Tru-Spec camouflage itself is darker and not as crisp as the MCCUU.
Aside from fading, durability seems to be pretty good. The material hasn't broken down and stitching is still intact. The features are good and my brother hasn't really had any complaints about them yet.
Price on US Cav web page:
Pants: $30.99
Top: $30.99


Tyler's Blog