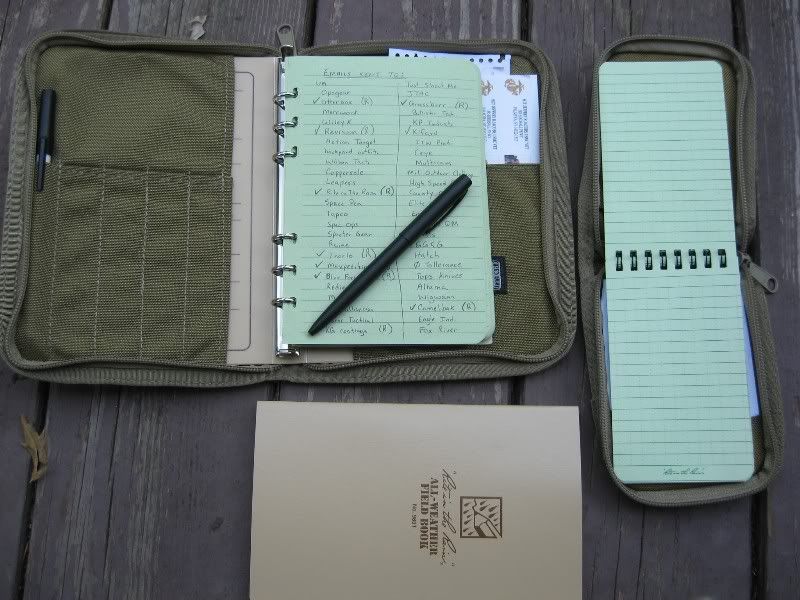 Rite in the rain is a company that you should know if you're in the military, law enforcement, or an outdoors man. Rite in the rain products are designed to get wet and maintain their usable properties. The water just rolls off the paper, even when completely submerged.

In past years I had used write in the rain notebooks while serving in the Marines. Being in the Marines the rite in the rain notebooks served me well as we were always in a hot or wet environment. I never had the notebooks fail or come apart. Even after being submerged for some time, the only noticeable difference in the paper was a little water seeping into the edges of the paper. This, however, didn't cause the paper to come apart.

In the years since leaving the Marines rite in the rain has even made the notebook paper better. The paper now is even more resistant to water and has a smoother surface. The older notebooks had a slight texture to them...the new notebook paper does not. They have also added tan paper along with their original green.

I recently received a couple products from write in the rain that I'll be reviewing here.

First is the Rite in the Rain all weather tactical black clicker pen (NSN - 7520-01-498-1876). You can use any pencil on the rite in the rain paper and it'll work just fine, but it can be smeared and sometimes you just need a pen. This pen is a metal pen, but doesn't weigh a lot. You click the end to expose the ball point. These pens have special ink that is under pressure which allows the pen to write upside down, under water, in temps from -30°F to 250°F. This pen writes extremely smoothly and unlike others I have tried, doesn't gum up at the tip causing a big glob of ink on your first few letters. Refils are available for this pen as well. MSRP: $9.95

Another item I've been using on a regular basis while out in the field testing gear and taking notes is the 3 ring binder and cover kit. The notebook included here is a 3 ring binder and comes with several different forms used in the military and regular notebook paper can be bought for it as well. The binder is made of durable polydura material and rust proof metals. I dropped this several times from a hight it may get dropped from in normal use to see if the rings would let loose...they didn't. BUT, if they were to let loose, the whole thing is enclosed in a binder cover made of cordura. The cordura feels like possibly 600D cordura, but either way it's pretty durable. It includes pockets on the inside, front and back, and pen pockets on the inside front. this cover zips closed. The color I got was the tan, but it's closer to coyote, which has become very popular in the past couple years. MSRP: $47.95 (with included pen)

One item that I used while in Iraq was the bound tactical field book. Of course, the newer version had the newer paper, and a nicer cover (called field flex), which is still very durable, yet a little thinner to reduce weight and makes carrying it in a pocket much more comfortable. The size is 4 5/8" x 7 1/4" and it has 160 pages printed in a pattern that is very useful. The pattern is basically a light graph paper pattern. I like this as it allows several different applications. This item is extremely durable and if you need to keep a log or any other type of notes that you'll want to have for some time...this is the way to go. MSRP: $14.95

The last item, that is also an item I used to use in the Marine Corps is the tactical pocket notebook with included cover. The 3" x 5" notebook itself has 50 waterproof sheets with the same universal graph pattern as the bound notebook. The Cordura cover (again, very close to coyote in color) is durable and has 4 pen slots on the front. The cover zips closed. I have been using this on a daily basis for the last few months in hot humid environment. It has gotten drenched in heavy rains and all sweaty and hasn't shown any wear, either in the cordura cover or the notebook itself. MSRP: $22.95 (with included pen)

I am not really easy on my gear and I haven't been easy on these items either. My past experience tells me that these items are built to last....they won't let you down. Rite in the rain has a ton of different products, including copier paper, ink jet paper, planners, index cards, and they can even make you custom forms and notebooks. One cool item I got somewhere years ago were their stapled notebooks....a good economical way to go if you need to supply for several people. Check out their site...you're sure to find something you need now or in the future.