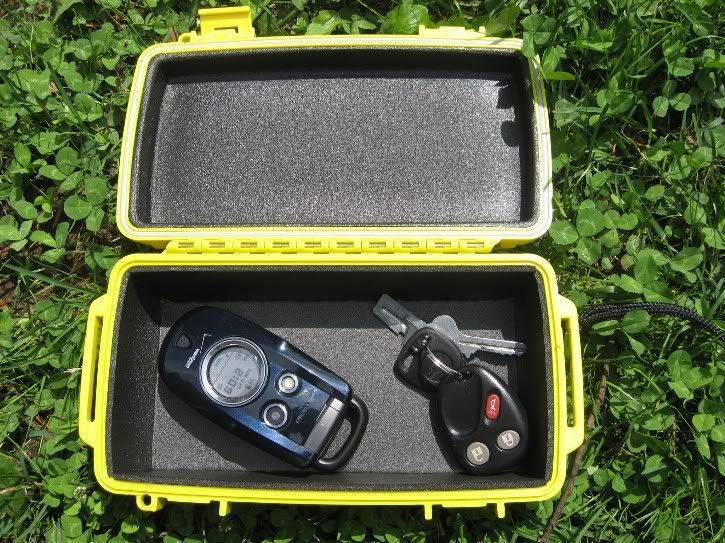 Otterbox makes a ton of different types of boxes and cases to protect your electronics and any other gear you want to keep safe from the elements or damage. Cases for everything from PCs, to palm pilots, blackberries, etc, etc. Otterbox was named by it's founder due to it's original mandate, which was a waterproof box to protect items from damage. The otter (who's fur is waterproof) became the mascot of otterbox.

The 3250 is a dry box that is waterproof, crushproof, and airtight. And can withstand submersions up to 100 feet. It's dimensions are 8.813" x 5.175" x 3.082" on the outside and 7.587" x 3.648" x 2.226" on the inside. It's perfect for keeping your daily carry electronics safe while out on a hike, camping, boating, etc. I think this size is good for an all around box, however, otterbox has so many sizes that you'd almost always find one for the gear you need to protect.

One thing that I really like about the otterbox I received is that it's completely padded on the inside to help protect your gear. It has a seal around the entire opening which keeps water out. It's outer surface also has raised areas that help to protect the box by being thicker and absorbing more shock.

Another nice thing is that it has a lanyard hole (and an included lanyard) and also on each end it has loops that will accommodate webbing for strapping your otterbox to almost anything you want to. This is good for keeping your otterbox secure in a boat or vehicle so it's always where you need it.

One thing you want to be careful of is not opening the latches too far. This doesn't seem to damage the box, but it's a little harder to close it. The latches latch closed easily, but stay closed. I found it best to turn the box so that the latches were away from me in order to easier open them.

I have used this box to store several different items since I got it and have used it while camping, boating, and military style training. Through all these activities it got bumped, jarred, beaten up, wet, etc, etc, ad my gear came out protected.

The only issue I had with this box was when I got home from camping I was emptying my truck and set it on the top of the cab and it slipped off and bounced twice on the pavement and slid down my driveway. This damaged the corners of the box and I was surprised and a little disappointed. My gear inside was kind of heavy and I believe that the weight of the box and where it landed on the box was just right to where the corners cracked. The latch came off too, but this appears to be a break away feature to prevent the latches from being damaged, as you can put the latch back on. When I went to put the latch on, however, the attachment point broke off due to the crack along the corner. Again, my gear was still safe and undamaged, which is the point of the box. I wasn't disappointed in this fact. I contacted the company regarding if this would be covered with any kind of guarantee...they said that it would be and that this is a very unusual thing to happen...it must have hit just right. Not a common problem. I tend to believe this as these boxes are pretty darn tough. They are sending a replacement and my review will continue with this box.

After the damage to the box I tested it's waterproof properties again. It took me shaking the box under the water to get just a slight trickle of water to enter the box...and that's with the waterproof seal exposed. Fairly acceptable in my opinion. The 3250 is an excellent box, as I suspect all Otterboxes are. They will keep your gear safe and as I have witnessed...even after having been damaged they kept my gear inside safe. I will continue to use the Otterbox and it's replacement and update this post as necessary.